Ex-Liverpool star Núñez: 'Benítez brings results not nice football'
Comments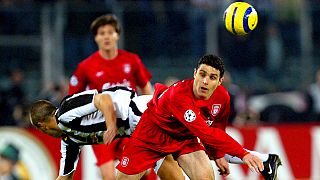 Ex-Liverpool star Antonio Núñez has lifted the lid on his former manager Rafa Benítez, telling Real Madrid fans to expect results not lots of goals or attrative football.
Midfielder Núñez, 36, won the Champions League with Benítez when they were both at Liverpool in 2005.
Núñez, who has also played for Real Madrid, spoke to euronews about Benítez ahead of the start of the Spanish football season.
Manuel Terradillos, euronews: "What's the first thing that comes to your mind when speaking about Rafa Benítez? How would you describe him?"
Antonio Núñez: "He's a really methodical coach. He leaves nothing to chance. He wants to have everything under control".
euronews: "How does Benítez deal with players? Is he more focused on the squad as a whole or does he talk to them individually?
Antonio Núñez: "A little bit of both. He's a coach that works on tactics at group level but he also likes to talk to players one-by-one. And he talks to all of them, not only to the most important. He talks to every player of the squad, he calls them, tells them what he wants from them, what they can improve and what they're doing well. He communicates a lot with his players."
euronews: "He has coached big teams but at Real Madrid he's facing a complicated challenge, as it's a club with plenty of stars. Do you think that he will be able to adapt? How is he going to deal with this stars?"
Antonio Núñez: "He has no lack of experience nor skills to coach Real Madrid, although it's true that this is a special club, with different characteristics from the other teams.
"It's complicated both for a coach and a player to succeed at Real Madrid in the long term. At Real Madrid things are taken day-by-day, and if one day things are not going all right, people will criticize and boo you.
"Let's see how he deals with the squad as a group. I think that this is the most difficult challenge that he's going to have. The rest will depend on the results, which are the ultimate factor to measure a coach's success."
euronews: "The last Real Madrid coaches won the Champions League and were well-known to be coaches with a deft touch, like Del Bosque or Ancelotti. Is Benítez's profile similar or different?"
Antonio Núñez: "He is different. He's not as aggressive as for example Mourinho, a coach that's involved in more conflicts than other ones. It's not this kind of coach, but he's neither a coach as conciliatory as Ancelotti or Del Bosque. That's not his style neither. He is a really serious coach. His relation with the players is always correct but it's never warm. He's never going to be friends with the players."
euronews: Remembering your season with Liverpool how would you describe Benitez's role in the team regarding the victory in the Champions League?
Antonio Núñez: "He played a really important role. He changed the dynamics of the team, and that's what the club was looking for. During some years prior to his arrival Liverpool hadn't been an important team anymore. It's an historic club that had been really important in the past, but that had lost that status during several years. The club was looking for somebody to change that trend and Benítez made that change possible. He had a team with a good squad but not among the best of Europe and nevertheless he managed to lift a trophy like the Champions League and also played a domestic cup final in the same year. He played a really important role."
euronews: "Regarding this summer, if we leave aside the first friendly matches, Real Madrid have scored just a few goals. Does it surprise you seeing that the team has players like Cristiano, Benzema or Bale or do you think that this is linked to Benitez's style?"
Antonio Núñez: "Benítez style has been never to score a lot of goals. That's something that we all know. His teams never stood out for scoring a lot or playing an attractive football. I think that this is something that Real Madrid fans and the people who signed him for the club already knew. What you can expect from him is good results, victories. For that he's the right man, but you cannot expect plenty or goals or attractive football. Nevertheless Real Madrid have really offensive players, really skilled, and with a team like this, these players can score a goal anywhere, anytime.
euronews: "Real Madrid was your first club in the top division in Spain. How do you see them this season?"
Antonio Núñez: "Like in every season during the last few years, it will also depend on Barcelona's form. That's what has defined the last seasons and has defined whether Real Madrid have success or not. During the last seasons Real Madrid have performed at a really good level, breaking records in terms of points, goals, victories… but in most of these seasons they haven't won the domestic league championship or the Champions League because they had to face a team that is currently being one of the best in history. I hope Real Madrid will succeed and I wish that they win every possible title but it will also depend in direct matches against Barcelona."