German parliament votes to back third Greek bailout
Comments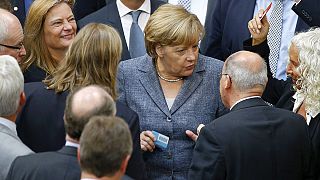 The German parliament on Wednesday backed a third bailout program for Greece.
A total of 454 MPs voted in favour, whilst 113 rejected the eurozone deal: 63 of of them from Chancellor Angela Merkel's Christian Democrat party.
A total of 18 abstained and 46 lawmakers failed to show up, of which 17 were Christian Democrat MPs.
Before the vote, as many as 60 members from the CDU/CSU said they would oppose the agreement struck with Greece and its creditors.
Opponents are worried Athens might get a substantial debt write-off and that German taxpayers will lose out.
German Finance Minister Wolfgang Schäuble, one of the CDU party's hawks on Greece, said that there is no guarantee that everything will work and we are allowed to have doubts.
But he told parliament that "the fact that the Greek parliament has already passed a large part of the measures."
"It would be irresponsible not to use the opportunity for a new start in Greece."
| Read more: Where does Greece's debt come from? The Greek source (Part 1/3) |
The Dutch parliament is set to approve the 86-billion-euro package later on Wednesday.
On Tuesday, MPs in Austria, Estonia, and Spain voted to support the third bailout.
France, Finland and Latvia have also given their approval.
The new emergency loans for Greece will be spread across three years.
The first installment is 26 billion euros, which Athens will use to repay 3.2 billion euros to the European Central Bank on August 20.
The International Monetary Fund has not yet agreed to take part in this bailout program; it says it will wait until October for the first review of Greece's austerity reforms.
The IMF, a global 'firefighting' fund to help states in economic trouble, has cast doubts on whether Greece's debt is sustainable.
It wants "substantial debt relief" until eurozone governments take that step.