Wreckage from missing Indonesian plane triggers search and rescue operation
Comments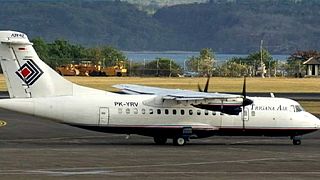 Indonesian search and rescue teams have headed for the country's mountainous eastern region of Papua looking for a plane which crashed on Sunday with 54 people on board.
Locals have confirmed finding wreckage from the Trigana Air flight.
The twin turboprop plane lost contact with air traffic controllers half an hour into its journey from the provincial capital, Jayapura, to the town of Oksibil.
An official from the company has confirmed that all those on board, which includes five children and infants, were Indonesian nationals.
Bad weather is believed to have been a possible reason for the crash although the age of the plane – it made its first flight 27 years ago – could be a factor.
The Trigana airline has had 14 serious incidents since it began operations in 1991. The company is on the European Union's list of banned carriers. That means it is barred from operating in European airspace.