Failed agreements mean Turkey's political future hangs in the balance
Comments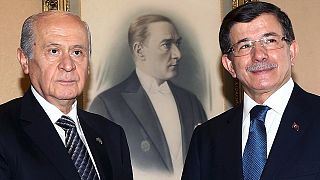 Turkey's political future is in limbo after talks between the ruling AK Party and the nationalist MHP broke down.
Snap elections could be on the horizon if an agreement is not reached by August 23.
Leader of the AKP, Prime Minister Ahmet Davutoglu said the MHP's Devlet Bahçeli "outlined some possible scenarios, but Bahçeli said "a coalition does not seem possible, a temporary coalition with the AKP until early elections does not seem possible and the MHP will not accept a minority government as he mentioned before… And they will never support early elections."
The meeting followed failed earlier discussions with the CHP Republican People's Party failed. Its leader has since announced it expects President Recep Tayyip Erdogan to give the task of forming a new government to his party.
In addition to political concerns, Turkey is facing economic problems and a host of national security threats, as our correspondent Bora Bayraktar in Istanbul explained:
"As the Turkish Lira loses its value and violence escalates, the public and businesses are hoping a government will be established. But almost two and a half months after the elections, all the possibilities have been exhausted and there is still no government. It seems this political deadlock will only be broken by people at the polls."