Bayern hit five past hamburg as Man City hit Chelsea where it hurts
Comments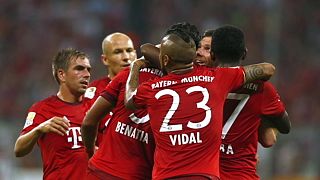 It's business as usual in the German Bundesliga.
Reigning champions Bayern Munich kick-started their title defence in impressive fashion.
Pep Guardiola's side opened up their campaign with a 5-0 thrashing of last season's relegation survivors Hamburg.
Mehdi Benatia put the Bavarian's 1-0 up at half time, but a second half explosion saw Bayern cruise to victory.
Robert Lewandowski scored just after the break before Thomas Muller hit the mark twice in four minutes.
New signing Douglas Costa of Brazil capped off his Bundesliga debut in style finding the back of the net for the fifth in the 87th minute.
Manchester City meanwhile sounded the warning bells in England's top flight by easily dismissing champions Chelsea
Chelsea's poor start to the season dragged on for another week with Jose Mourinho's side suffering a 3-0 battering at the Etihad.
An impressive finish from Sergio Aguero just after half an hour put City ahead.
The home crowd grew louder as Vincent Kompany powered home a header in the 79th minute, practically securing the victory for Manuel Pellegrini's side.
Any chance of a Chelsea comeback completely vanished in the 85th minute when Fernandinho made it three for City.
A victory that puts the Citizens top of the table.
Up and down
Let's now have a look at who has earned a place on our ''Up and Down'' list this week.
On the Up is Leicester City who have enjoyed a fine start to the Premier League season in which they have won their first two games.
They followed up their opening win against Sunderland with a 2-1 win at West Ham – they join Man City and united at the top on maximum points.
On the Down is Chelsea boss Mourinho, who has been widely condemned for his treatment of team doctor Eva Carneiro during the draw with Swansea a week ago.
Mourinho lambasted Carneiro for running on to the pitch to treat Eden Hazard which left Chelsea temporarily at nine men.
Might apply for the Chelsea doctor's job given the applicant must understand football. Not sure if any medical knowledge is required.

— Gary Lineker (@GaryLineker) 12 Août 2015
Joining Mourinho on the down is French side Olympique Marseille who have now lost both their opening league fixtures.
Coach Marcelo Bielsa unexpectedly quit after their day one defeat and following that shock interim coach Franck Passi took charge in a defeat by Reims on Sunday.
We might be wrong
Next weekend Italian and Spanish clubs are back in action after the summer break.
Six days after the Spanish Super cup (Tuesday Aug 17), Athletic Bilbao and Barcelona will lock horns in the league on Sunday.
How will this game and the some selected others from across Europe finish?
If you don't agree with our predictions send us yours using #TheCornerScores.
Everton 1-2 Manchester City
Arsenal 1-2 Liverpool
Juventus 3-0 Udinese
Athletic Bilbao 0-2 Barcelona
Road to Euro 2016
If you didn't already know, the very first goal in inaugural European Championship was scored by Anatoli Ilyin, during a qualification match against Hungary.
Unfortunately for the Russian striker he didn't participate in the competition's finals and missed out on lifting the Cup, with his Soviet teammates.
The Soviet Union player scored after just four minutes, during the very first qualifying match of the competition, staged in Moscow, on September 28, 1958. USSR defeated Hungary 3-1.
The USSR eventually reached the final where they met Yugoslavia who scored first.
The Soviet Union, led by legendary goalkeeper Lev Yashin, equalized in the 49th minute.
After 90 minutes the score was still level at 1–1.
Viktor Ponedelnik turned out to be the hero when he scored with seven minutes left in extra time to give his nation the inaugural European Championship.
Bloopers
Carsten Kammlott, a player in Germany's third division club Rot-Weiss Erfurt, scored an incredible goal last Thursday against Dynamo Dresden.
They call it the ''Scorpion kick'' and the great master of this football acrobatic was shot-stopper René Higuita. Do you remember him? Let's refresh your memory. (See clip above for Higuita and below for other scorpion kicks).