Road deaths in France hit three-year high in July
Comments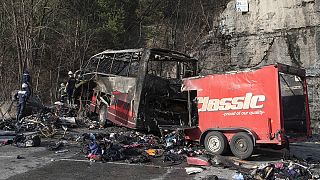 Deaths on French roads in July hit a three-year high, according to new figures from France's Interior Ministry.
There were 360 people killed last month, an increase of 19.2 per cent compared with 2014 and the highest monthly figure since July 2012.
France has one of the highest road death rates in western Europe, with 53 deaths per million of its population.
Road deaths in France have been steadily falling over the last decade, from 5,318 in 2005 to 3,384 last year, according to government figures.
Nevertheless the French government introduced measures to improve road safety earlier this year, including a ban on the use of mobile phone hands-free kits while driving.
There is also a pilot project underway to see if reducing the speed limits on secondary roads from 90kph to 80kph will make a difference.
Bernard Cazeneuve, French interior minister, said the 90kph was not being respected and that he was not against cutting speeds on the most dangerous roads.
He added: "I want to say, seriously, to all the people who have to take the road that they must be exemplary and responsible."
"We need a change", said Chantal Perrichon, president of France's Ligue contre violence routière (League against road violence). "A minister is judged on his results and they are devastating. In appealing to the responsibility of citizens rather than mobilise his own responsibility, that's a problem!"
Four children died earlier in August in one of the most shocking accidents of recent months . They were among 14 teenagers in a van that was meant to carry just seven, which crashed near Rohan in Brittany.
Earlier this year Violeta Bulc, EU Commissioner for Transport, expressed disappointment after figures revealed road deaths across the bloc had fallen just one percent between 2013 and 2014.
Latvia has the highest per capita road deaths in the EU, with 106 fatalities per one million of its population.
Bulgaria, Romania and Poland follow the trend of high per capita road deaths in eastern Europe, while Belgium, Portugal and France are among the worst in the western part of the EU.
Bulc said: "It's sad and hard to accept that almost 70 Europeans die on our roads every day, with many more being seriously injured. The figures published today should be a wake-up call. Behind the figures and statistics there are grieving spouses, parents, children, siblings, colleagues and friends. They also remind us that road safety requires constant attention and further efforts."
"We need to step up our work for the coming years, to reach the intended EU target of halving the number of road deaths by 2020. Let's work together to make sure more people come home safely at the end of their journey. This is one of my priorities and should be one of the priorities of all governments in all the Member States!"
Infographics
---
EU road deaths per million of population
Scroll over the map to see the figures
July road deaths in France 2005-2015

Road deaths in France 2005-2015


---