The Corner: Back from the summer break and back to business
Comments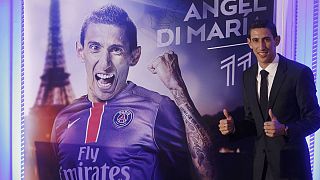 Hello and welcome to The Corner which is back following European football's summer break.
I'm sure during the summer you've been tracking player movement – the ins and outs of your favourite clubs.
Well, begin the new season of The Corner with this summer's five most expensive transfers.
Karim Benzema could have made the list but the Frenchman's expected move to Arsenal for a club record fee has yet to materialize so here's the official top five.
Topping our list is Manchester United flop Angel Di Maria who after one season at Old Trafford was sold to French champions PSG for 63 million euros – 12 million less than United paid Real Madrid.
Some say he was too expensive for his age but the talented Raheem Sterling was too good to pass up for Manchester City who paid Liverpool 62,5 million euros for the 20-year-old England international.
Liverpool were also busy bringing players in notably the club's second most expensive signing Belgian international Christian Benteke for 46.5 million euros and Brazilian Roberto Firmino at 41 million euros.
And finally Chile international Arturo Vidal returned to the German Bundesliga after completing a 37 million-euro move to league champions Bayern Munich from Juventus.
Up&Down
The start of the season – notably in England and France – has given us some early winners and losers to fill up our 'Up and Down' segment – but we begin on a high note from South America.
River Plate make our up list. Only four years after being relegated for the first time in a century the Buenos Aires club capped off a remarkable comeback by winning the Copa Libertadores for a fourth time in the club's history.
Goalkeeper Peter Cech might be forgiven for feeling a little bit down after a nightmare debut appearance for Arsenal in which he has been criticsed for his performance leading up to both of West Ham's goals in the Gunner's weekend defeat.
Also on the down is Arsenal's injury prone Jack Wilshere who is out of action for a month with a fractured fibula.
The 23-year-old sustained the injury in a training session prior to Arsenal's 1-0 Community Shield win over Chelsea.
Argentine Marcelo Bielsa, nicknamed 'the Crazy one' also makes our down list.
He quit as Marseille coach minutes after a home defeat on the opening day of the season following a contract dispute with the owners.
His own players were also taken by surprise by his decision.
We Might Be Wrong
This week the Bundesliga also returns to action. So let's throw this European heavyweight into our 'We Might Be Wrong' predictions segment. We are often wide of the mark so why don't you have a crack and send us your score forecasts via Facebook and Twitter by using #TheCornerScores.
FC Shakhtar v FC Dnipro 3-1
Manchester City FC v Chelsea FC 1-1
FC Bayern Munich v Hamburger SV 3-0
AS Saint-Étienne v FC Girondins de Bordeaux 3-1
Road to Euro
With the Euros heading to France next summer we thought it appropriate to create a 'Road to Euro' segment to delve into the history of the competition and take a closer look at the defining moments. Today we go all the way back to the beginning.
The idea for a pan-European football tournament was first proposed by the French Football secretary-general Henri Delaunay in 1927.
Delaunay however was not to see the birth of his brain child. The inaugural tournament was in 1960, five years after his death.
It was first held in France and had 17 participating nations.
It was won by the Soviet Union who beat Yugoslavia 2–1 in the final.
Spain withdrew from its quarter-final against the USSR due to political protests while notable tournament absentees included England, the Netherlands, West Germany and Italy.
Bloopers
We finish this season's curtain-raising edition with a photo session in north London.
A session that delivered quite the surprise for the Arsenal fans that gathered to take a snap of themselves wearing the new kit for the club's official website.
(See clip above)