Norwegian youth return to Utoya island
Comments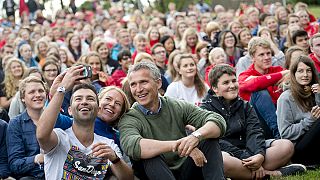 Norway is turning the page on the most bloody event in its history.
On 22nd July 2011, right-wing extemist Anders Behring took the lives of 77 people during a murderous rampage.
He went on a shooting spree on the island of Utoya, killing 69.
Now, for the first time, young Labour party activists, including some survivors, have returned to the scene.
"Today we are participating which is bigger than ourselves, both as part of a long tradition – being on camp at Utoya – and at the same time being here for the first time since the terror attack against our organization and our nation in 2011. 22nd of july will forever be a part of the story of Utoya, all what we have to go through the very hard days," said Mani Hussaini, the leader of the Labour Party's youth wing.
Before wreaking his deadly havoc on Utoya Island, Breivik had set off a bomb in the government district of Oslo, killing eight people.
He then turned his attention to Utoya Island forty kilometres away where youth activists from the centre-left Labour party were meeting.
In court, Breivik said he wanted to strike back at the political mainstream in Norway over their embrace of immigration and multiculturalism.
Judges sentenced him to the maximum sentence of 21 years in jail, according to Norway's statute books
But his sentence can be extended indefinitely if he is considered to be a danger to society.
Breivik has also said that he would carry out such attacks again to prevent what he sees as the Islamisation of Norwegian society.
"The events of July 22 have also shown that we have a common force. When we stand together, hatred will not win. When we as a society stand together for our values, we cannot be stopped or silenced. We have shown that love is more powerful than hatred," Hussaini said.
By going back to the island, the young political activists say they are simply standing up for democracy.
In some way, Breivik's massacre failed: as it brought Norwegians closer together, even more determined to stand up to extremism.