Obama unveils US plan to cut carbon emissions
Comments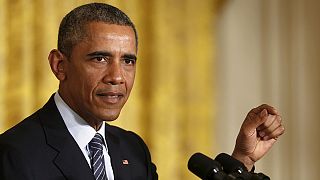 US President Barack Obama has unveiled a ramped-up plan to cut carbon emissions from power plants.
Speaking in Washington, he declared climate change the greatest threat facing the world.
"Today we are here to announce America's clean power plan, a plan two years in the making in the single most important step America has ever taken in the fight against global climate change," Obama told an applauding audience.
Obama said unless aggressive action is not taken now, the world may not be able to reverse global warming.
"In December, with America leading the way, we have a chance to put in place one of the most ambitious international climate agreements in human history, and it's easy to be cynical, and to say climate change it's a kind of challenge just too big for humanity to solve. I'm absolutely convinced that's wrong," he said.
"We can solve this thing but we have to get going. It's exactly the kind of challenge that's big enough to remind us that we are all in this together."
Obama has rejected criticism that his plan will hike energy bills, hurt the poor and cost jobs.
The plan announcement comes ahead of international climate talks in Paris in a few months' time.