MH370: Plane debris heads from Reunion to Paris for analysis
Comments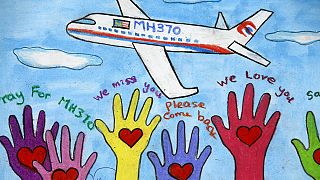 Plane debris thought to belong to the missing Malaysia Airlines flight MH370 left Reunion island on Friday night heading for Paris.
In metropolitan France, experts from several countries will study the wing-flap found washed up in the Indian Ocean. It's hoped their conclusions could help end 16 months of uncertainty for the relatives of the 239 passengers and crew.
Some experts have said the debris is almost certainly part of a Boeing 777.
It could finally confirm that the plane crashed into the sea after veering off course from Kuala Lumpur to Beijing – and give clues towards the possible cause.
The experts hope to be able to determine whether the plane came apart in the air or upon impact with the ocean.
"Thanks to this piece (of wreckage) we will be able to say virtually with certainty 'there was no explosion', or 'there was no fire'. If for example the aircraft went into a nosedive, the compression marks on this wing-flap will be very weak, whereas if it fell flat, there will be extremely substantial marks. So we'll be able to eliminate certain scenarios thanks to these indicators, rather than build one," said Aeronautics expert Bertrand Vilmer from the French Appeal Court.
The debris will be delivered to a specialist military unit near Toulouse which analyses aviation wreckage. It will begin by trying to verify the wing-flap's serial number.
The same unit studied debris from an Air France flight which crashed between Rio de Janeiro and Paris in 2009.
A fragment of luggage also found will be taken to a unit near Paris specialising in DNA tests.