Plane debris to be sent to France to investigate possible links to MH370
Comments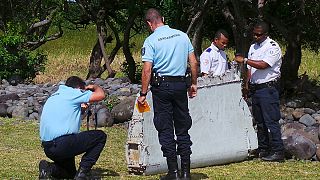 A piece of plane debris washed up on the French department of Reunion Island is being sent to France for further investigation.
Speculation is rife it could belong to the missing Malaysia Airlines flight MH370. The Boeing 777 disappeared in March 2014 less than an hour into a voyage from Kuala Lumpur to Beijing.
The two-metre-long object is believed to be a flaperon – a part of a plane's wing which helps the pilot control the aircraft while in flight.
Malaysia's Deputy Transport Minister said the object is almost certainly from the same model.
Others, however are being more cautious.
"It's the first real evidence that there is a possibility that a part of the aircraft may have been found. It's too early to make that judgement, but clearly we are treating this as a major lead," said Deputy Prime Minister of Australia, Warren Truss.
Professor Charitha Pattiaratchi of University of Western Australia Oceans Institute added:
"Finding this piece of debris in Reunion Island is entirely consistent with the current patterns in the southern Indian Ocean."
Previously, the search for the missing plane had focussed on an area off the coast of western Australia, some 3,700 kilometres east of Reunion.
Now, teams have been mobilised on the island and in France, where analysts at the BEA crash investigation agency will examine the debris.
Officials hope to find the plane part's maintenance number, which will help in finding the origin of the piece. The investigation is expected to take two to three days.