Memon: India executes plotter of 1993 Mumbai attacks
Comments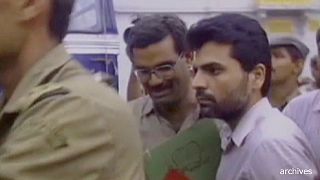 India has executed the man convicted of financing the country's deadliest terrorist attack.
It came after the Supreme Court threw out a final appeal for clemency by Yakub Memon.
There was tight security at this prison in the state of Maharashtra where the sentence was carried out.
India hangs Yakub Memonthe, a man tied to Mumbai bombings that killed 257 people in 1993. http://t.co/5bexys34B3pic.twitter.com/imQivhFTqp

— New York Times World (@nytimesworld) July 30, 2015
Reaction from survivors
Survivors of the 1993 attacks have welcomed news of the execution: "We are happy that he has been hanged," said one man,"because he was guilty. I think this is justice." A feeling echoed by another, who said;"He took the lives of so many people that no one has any sympathy for him now."
1993 – What happened and why
Yakub Memon: India executes 1993 Mumbai bomb blasts convict http://t.co/rSKaGmuQOOpic.twitter.com/IQHgA18I3r

—

IBT

imes UK (@IBTimesUK) July 30, 2015
257 people died in March 1993 in a series of blasts in Mumbai, then known as Bombay.
They were allegedly to avenge the killing of Muslims in riots a few months earlier.
Ten other people were convicted but escaped the death penalty.
The two alleged masterminds remain in hiding.