India to pass China to be world's most populous country - study
Comments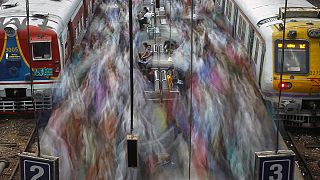 India will overtake its Asian rival China to become the world's biggest country, a new UN study has predicted.
It says India, population 1.31 billion, will overtake China, which currently has 1.38 bn inhabitants, by 2022.
The number of people in the world will jump from 7.3 bn now to 9.7 bn by 2050, says the UN's World Population Prospects report.
Africa will be the main engine of this increase, accounting for more than half of global population growth over the next 35 years.
Nigeria, currently the seventh biggest country globally, is expected to overtake the United States by 2050, to become the world's third most populous.
Europe is the only world region that is predicted to see a drop in population, falling from 738 million now to 707m in 2050.
---
How the current top ten biggest countries are predicted to change, 2015-2100
---
John Wilmoth, director of the UN's population division, said: "Future population trends will be affected by trajectories in the three major components of change – fertility, mortality and migration – but especially by the future course of fertility.
"For the world as a whole, fertility has fallen steadily since the 1960s. Currently the average woman is having around 2.5 children over her lifetime. But this number varies widely around the world. Africa has the highest fertility level, with around 4.7 children per woman. Even assuming a continued decline in fertility, given this high starting point, we should anticipate a continued rapid growth of the African population, which will roughly double in size between now and 2050.
"Globally, life expectancy at birth rose by three years between 2000-2005 and 2010-2015, or from 67 to 70 years. All major areas shared in the life expectancy gains over this period but the greatest increase was for Africa, where life expectancy at birth rose by six years over the same time period.
"International migration is the third component of demographic change. Over the past 15 years, we estimate there has been an average annual net flow of 4.1 million migrants moving from low- or middle-income countries to high-income countries. We anticipate that substantial levels of international migration will continue in the future and that migration will continue to be the leading force of population change for some countries in future decades."
---
How the world's regions' populations are predicted to change, 2015-2100
Please click on the buttons to toggle between the years. Figures are in billions.
---