We've rescued 5,500 migrants from sea in three months, says charity
Comments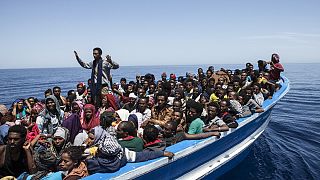 It's the drop of heartwarming humanity in an ocean of migrant misery in the Mediterranean over the last few years.
While Brussels was 'dithering' earlier this year over how to tackle the world's deadliest sea crossing, one charity took on the responsibility for saving lives.
Migrant Offshore Aid Station (MOAS), based in Malta, raised enough money to resume its sea rescue missions in May.
The charity, founded by entrepreneurs Christopher and Regina Catrambone, claims to have saved 5,500 migrants' lives this year.
The UN's refugee agency said 1,787 people died in the Mediterranean in the four months to April, plummeting to 80 for May and June combined.
But it is unclear how much impact MOAS had on the improving death toll, given it launched shortly after EU leaders agreed to treble funding for its much criticised Mediterranean rescue mission.
MOAS has raised enough money for its May-November rescue effort. It claims public support for the charity has rocketed in recent weeks, with 1.5 million euros being donated in the last month alone.
But the charity, whose operation costs around 500,000 euros a month to run, is now asking for more donations to keep its rescue mission going beyond November.
Mr Catrambone said: "As UNHCR said in a recent report, MOAS and several other private and state-run ships who responded to the crisis have contributed to a significant drop in the death toll.
"The reality is that there are never enough assets at sea but public pressure is vital for European countries to keep saving lives at sea at the top of their agendas. Donations to MOAS and other NGOs help maintain this public pressure and stresses that citizens are not willing to remain bystanders.
"When we started MOAS we had faith that the global community will be inspired to respond to this humanitarian crisis of historic proportions. We created an innovative direct response which the public could support and help finance. Now people have joined our call that nobody deserves to die at sea."
Mr and Mrs Catrambone founded the charity in 2013, inspired to act after hundreds of migrants died off Lampedusa.
The philanthropists, who own businesses in Malta, pumped in 8 million euros to buy a boat, equipment and fund a 60-day mission in 2014.
To donate to MOAS visit www.moas.eu/donate.
Main image credit:MOAS.EU/Jason Florio