Saif al-Islam Gaddafi: Libya's failed reformer
Comments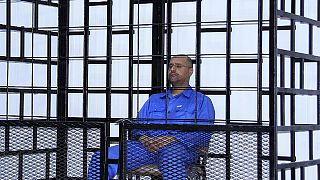 Saif al Islam Gaddafi was once widely seen as the future of reform in Libya.
Muammar Gaddafi's second son was once regarded as the man who would bring Libya closer to the West, and he played a key role in the country's rapprochement after it was blamed for being behind the Lockerbie plane disaster.
Born in 1972 and educated in Britain, in 2003 he was involved in the negotiations which led his father to abandon his nuclear weapons programme.
And, in 2009, he aided talks that secured the release of Abdel Baset al-Megrahi, convicted of the Lockerbie bombing.
But everything changed at the beginning of 2011, when anti-government protests broke out in the eastern Libyan city of Benghazi.
Saif's role in repressing demonstrations led the International Criminal Court to charge him with crimes against humanity.
In March, when the regime was faced with the threat of a Nato military intervention, Saif challenged western powers:
"The French or the Europeans they should talk to the Libyan people. Two days ago, you have seen thousands of people marching in the streets and the squares, you saw them early in the morning. This is the real picture of Libya. Those are the real Libyans. If they want to support the militia, do it. But I will tell you from now, you are going to lose, we will win," he stated.
During an Interview with euronews, Gaddafi's son launched strong accusations against then French President Nicolas Sarkozy, whose government was supporting the insurgency.
 
"Sarkozy must return the money that he accepted to finance his electoral campaign. We gave him that money and we're ready to reveal everything about it. The first thing that we ask for from this clown is that he gives money back to the Libyan people," said Gaddafi.
As rebels closed in on Tripoli, helped by the western air strike campaign, Saif al Islam vowed to fight to the end against the insurgents, accusing them of being terrorists.
After three months on the run, Saif was captured in southern Libya on 19 November 2011 and taken to the Zintan prison. A month before, his father was killed by rebel forces in his home town of Sirte.