Golden shot: China shocks the commodities market with reserves revelation
Comments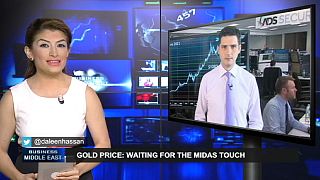 Gold appears to be losing its lustre after shedding 4% of its value in a turbulent week. Morgan Stanley indicated a worst-case scenario of a drop to less than $900 per ounce, and cited China as the source of the decline.
We always advise our clients globally to diversify their portfolios and not to concentrate on one market or asset.
China's central bank had revealed its gold reserve levels for the first time in six years. They were disappointing and below investors' expectations.
This safe haven could now become a source of concern for investors amid a higher dollar and hints that US interest rates will rise.
The decline saw gold reach a five-year low. China's reserves were revealed as 1,650 tons at the end of June. It was the first time the figure had been announced in six years and was lower than had been expected.
China crisis
The Chinese central bank disclosed its gold holdings ahead of the IMF's meeting in October. Beijing has sigalled its aim to join the IMF currency basket.
The decline in gold purchasing by China had an immediate impact on the markets. It plunged to $1,090 per ounce on Thursday. This came as the US unemployment data hit its lowest point since 1973, increasing the chance that the Fed will raise rates in September. Consequently the stronger dollar now puts more pressure on gold.
On Friday, Gold fell even further to $1,077 after more unwelcome news out of China; Manufacturing PMI fell to its lowest point since April, 2014. This was mitigated somewhat on Monday, when the price spiked again above $1,100 after the Fed revised down its inflation estimates.
The Abu Dhabi perspective
For more insight on gold trends and a technical analysis BME's Dahleen Hassan spoke to Nour al Deen al Hammoury, chief market strategist at ADS securities in Abu Dhabi.
Daleen Hassan: "A significant decline in gold prices last week, what is your analysis of the current levels and the outlook for the next period?"
Nour al Deen al Hammoury: "The latest decline is due to the Chinese gold reserve announcement, which came in lower than the market estimates. From a technical analysis point of view, gold rallied during the financial crisis and that rally lasted for almost 12 years, until it peaked at $1,920 per ounce.
"Since then the prices have declined significantly. As analysts we always look at what are called retracement ratios, which is at 50% from the full rally.
"Gold reached a 50% retracement ratio of the entire rally, which lasted around 12 years. The 50% retracement stands at $1087 per ounce. But gold did not break through that support.
"Indeed this was a notable decline or a test to this level. But at the same time, gold has since spiked at the beginning of the week from that level, which keeps the long term outlook positive. However, a break through that support may lead to another decline toward $890, which would represent almost 62% of the entire 12-year long rally. So traders have been trying to pull their investment from gold funds and gold hedge funds."
Daleen Hassan: "Gold hedge funds have descended to new lows, why?
Nour al Deen al Hammoury: "This is considered normal due to the rising US Dollar and the hike in the global markets recently. The yield of the stocks and bonds markets is currently giving back a better revenue than the investor may get from gold, therefore traders are heading towards risk assets,"bonds and stocks which are higher-yielding than gold".
Daleen Hassan. "It's well-known that investors move to gold and other safe havens during global economic slowdowns. But have things changed now? What about the situation in the Middle East?
Nour al Deen al Hammoury:
"One important thing to consider is the value of gold remains the same. The recent decline in gold prices is because of the US dollar's strength, which affected most of the commodities prices, not only gold. However, traders and investors always looks for opportunities to buy with less cost or on lower prices. This is what happened in the Middle East last week; we noticed a notable demand across the country and this is also normal, as happened last time when gold dropped. Also the recent decline came at the end of the Eid holiday, the end of Ramadan, which was an opportunity to buy gold gifts with lower prices."
Daleen Hassan: "With a lot of pressure on precious metal prices, what advice or guidance would you give investors?"
Nour al Deen al Hammoury: "We always advise our clients globally to diversify their portfolios and not to concentrate on one market or asset. They can diversify their investments in stocks, bonds, currencies and commodities, which decrease their risk especially when the market volatility increases significantly, just as it did recently with the gold decline and the dollar increased against major global major currencies."
Share your thoughts with us in euronews' social networks using hashtag #businessmiddleeast
.