Alternative Iran deal 'a fantasy', Kerry tells Congress
Comments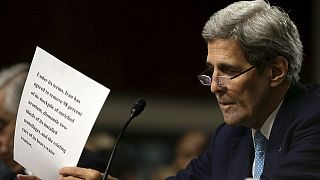 The US Secretary of State John Kerry has vociferously defended the nuclear deal struck with Iran, as he testified before Congress.
He arrived to cheers from members of "Code Pink", a small anti-war group.
But Republican politicians turned on Kerry over the agreement, which curbs Tehran's nuclear programme in return for sanctions relief.
The Republican chairman of the Senate Foreign Relations Committee, Bob Corker, criticised Kerry for the terms the US and world powers had negotiated in Vienna.
"I believe that you've been fleeced," he said.
Kerry replied that Iran's technological knowledge could not be bombed away.
"Let me underscore, the alternative to the deal that we have reached is not what I've seen some ads on TV suggesting disingenuously. It isn't a, quote, "better deal," some sort of unicorn arrangement involving Iran's complete capitulation. That is a fantasy, plain and simple," Kerry said.
.TheIranDeal</a> helps the world by preventing <a href="https://twitter.com/hashtag/Iran?src=hash">#Iran</a> from getting nuclear weapon. It deserves the support of Congress. <a href="http://t.co/hYJ6wTtTB5">pic.twitter.com/hYJ6wTtTB5</a></p>&mdash; John Kerry (JohnKerry) July 23, 2015
Corker: #IranDeal enables state-sponsor of terror to obtain an industrialized nuclear program http://t.co/pQeWGoAQ0U

— Senator Bob Corker (@SenBobCorker) July 23, 2015
Conservatives in Iran as well as in America have also condemned the deal.
Revolutionary guards and hardline politicians claim that it endangers Iranian security.
But President Rouhani said in a TV address that Iran's path was a "path of moderation".
The agreement showed no-one could threaten Iran, he said.
Echoing Israel's opposition to the deal, several thousand people demonstrated in New York against it, calling on Congress to vote the agreement down.
One Republican Congressman told the crowd that the accord empowered the country he described as the world's "most dangerous sponsor of terrorism".
Congress has until mid-September to approve or reject the deal. President Obama could veto a rejection, which Congress would then need a two-thirds majority to overturn.