Iraq: US Defense Secretary makes surprise visit
Comments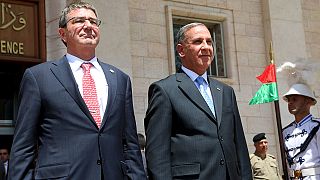 The US Defense Secretary has made a surprise visit to Baghdad.
Ash Carter is in Iraq to assess the progress on plans for an offensive to retake the city of Ramadi from the self-styled group Islamic State.
L'EI au menu de la première visite d'Ashton Carter en Irak / http://t.co/v3CveEsLxUpic.twitter.com/8QAYpbqABL

— InfosMagazine (@InfosMagazine) 23 Juillet 2015
Ramadi is the capital of Sunni-dominated Anbar province. Baghdad plans to launch a counter-offensive to retake it from IS, but this has yet to get underway.
Iraq's defence ministry has released a video showing what it says are air strikes on Wednesday targeting IS hideouts and vehicles in Anbar province.
The campaign will be a key test to see how Iraq's military manage to fight a campaign mainly on their own, with minimal support from the US.
The fall of Anbar has raised questions about the calibre of Iraq's mainly Shi'ite armed forces and their dependence on Shi'ite militia.
There are also questions about the government's ability to breach Iraq's sectarian divide.
IS militants have admitted carrying out a suicide car bombing in a mainly Shi'ite Muslim district of Baghdad on Wednesday. At least 20 people died. 48 were injured.
#Baghdad bombing attacks kill at least 21: police #Iraq#Violence#Bombinghttp://t.co/u9LmS88H7Apic.twitter.com/hwu9TNtcHQ

—

SAMAA

TV (@SAMAATV) 23 Juillet 2015