French MPs defend controversial visit to Crimea
Comments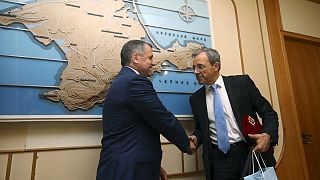 A group of French MPs has stirred controversy by visiting Crimea.
The territory was annexed by Russia in March last year following a referendum not recognised as legal by most members of the United Nations.
The unofficial trip by ten politicians from the opposition centre-right Republican Party, has been condemned by the French and Ukrainian governments.
But former French Transport Minister Thierry Mariani, leading the delegation, defended the referendum and Crimea's annexation which Moscow argues legitimised the territory's "return" to Russia.
"I'm happy to be here", Mariani struggled to say in Russian before continuing in French.
The MP later told the Crimean parliament that the referendum had prevented the sort of destruction he had seen in Ukraine.
The visit, which is also taking in Moscow, comes in defiance of Western sanctions against Russia.
The pro-Russian leader in Crimea said the trip showed the sanctions were ineffective.
The French Foreign Minister Laurent Fabius said he was "shocked" by the visit which was "in violation of international law".
Ukraine called it "irresponsible" and said it showed a lack of respect for Ukrainian sovereignty.
The Republican party, formerly called the UMP, is led by former French President Nicolas Sarkozy.