'Do moral duty or doom humanity by climate change'
Comments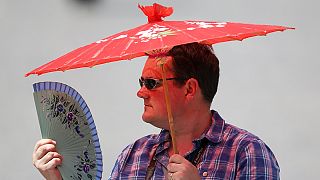 This June — 2015 — was the hottest June since temperature records began, in 1880. Experts are saying that governments should treat climate change as seriously as threats to national security or public health — from 11 nations, they made the suggestion in a report earlier this month.
Only the induced implosion of the carbon economy offers a chance to avoid possible disaster.
Global land and ocean temperature anomalies 1881-2014
The term temperature anomaly means a departure from a reference value or long-term average. A positive anomaly indicates that the observed temperature was warmer than the reference value, while a negative anomaly indicates that the observed temperature was cooler than the reference value. In this graph, anomalies are with respect to the 20th century average.
According to the National Oceanic and Atmospheric Administration (NOAA), the first half of this year has broken heat records, and last year was already the hottest yet.
Last month, in Pakistan, morgues in Karachi (population 20 million) and hospitals were overwhelmed; officially, more than 1,150 people died; 44 degrees Celsius coincided with power cuts and the Muslim holy month of Ramadan, when faithful abstain from eating or drinking by day.
In India, in May, the 47 degree heat killed some 2,500 people, in Andhra Pradeshet and Telangana states.
An international team wrote in the journal Science that ocean levels rose between six and 13 metres when temperatures during pre-historic ice thaws were around or slightly higher than today's.
That study warned of a possible repeat even if governments cut greenhouse gas emissions.
A top researcher, Hans Joachim Schellnhuber, has said only the "induced implosion of the carbon economy" offers a chance to avoid possible disaster — the proverbial snowball's chance in Hell, perhaps.
Schellnhuber, founding Director of the Potsdam Institute for Climate Impact Research (PIK) and Chair of the German Advisory Council on Global Change (WBGU), said: "In the end it's a moral decision."
Pope Francis did too: "Our house is going to ruin, and that harms everyone, especially the poorest. Mine is therefore, an appeal for responsibility, based on the task that God gave man in creation: that he keep the garden in which he was placed."
High-level activists like Schellnhuber and others have emphasised that the costs of the coming economic transition away from fossil fuels should be paid by the world's rich rather than the poorest.
Schellnhuber said: "The poorest contribute maybe 1% of emissions; it's the richest who need to change their behaviour."