Donald Trump unmoved by protests over attack on John McCain's war record
Comments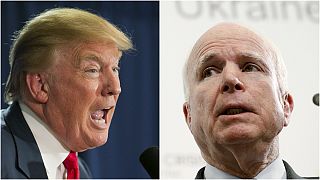 Following his attack on Mexican immigrants, a storm of anger has greeted the latest outburst from Donald Trump, the early frontrunner for the Republican nomination in the US presidential race.
Donald Trump's comments today make him unfit to be Commander-in-Chief
Several leading party figures have castigated the billionaire business mogul and reality TV star, after he questioned John McCain's war record.
The senator was held prisoner in Vietnam for over five years and repeatedly tortured.
"He's a war hero because he was captured. I like people that weren't captured, okay. I hate to tell you. He is a war hero, because he was captured. And I believe, perhaps he's a war hero, but right now, he's said some very bad things about a lot of people," Trump said during a meeting of social conservatives in Iowa.
There was no immediate reaction from the 2008 presidential candidate himself, who's clashed several times with Trump.
But McCain's daughter Meghan made clear her feelings on Twitter.
I can't believe what I am reading this morning. Horrified. Disgusted. There are no words.

— Meghan McCain (@MeghanMcCain) July 18, 2015
There has been a volley of condemnation from other Republican presidential contenders and Trump's comments were condemned by the Republican National Committee.
Enough with the slanderous attacks. SenJohnMcCain</a> and all our veterans - particularly POWs have earned our respect and admiration.</p>&mdash; Jeb Bush (JebBush) July 18, 2015
.realDonaldTrump</a>&#39;s comments today make him unfit to be Commander-in-Chief <a href="https://t.co/EVl1X66gHo">https://t.co/EVl1X66gHo</a></p>&mdash; Rick Perry (GovernorPerry) July 18, 2015
But despite previous controversies, several recent opinion polls have suggested they lag behind the outspoken figure in the race for the Republican presidential nomination – prompting some analysts to question how far he can go in the US presidential race.
Donald Trump drew protests last month and was sacked from TV network NBC after his comments about Mexican immigrants: "They're bringing drugs. They're bringing crime. They're rapists".
McCain accused the mogul of having "fired up the crazies".
John McCain called thousands of people "crazies" when they came to seek help on illegal immigration last week in Phoenix. He owes apology!

— Donald J. Trump (@realDonaldTrump) July 19, 2015
Despite the storm of protest over his latest outburst, Trump's attack on the senator from Arizona has continued.
The Veterans Administration is in shambles and our veterans are suffering greatly. John McCain has done nothing to help them but talk.

— Donald J. Trump (@realDonaldTrump) July 19, 2015