Italy crowned men's World Fencing champions
Comments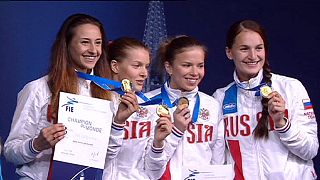 Italy have won the men's team event at the World Fencing Championships in Moscow on Friday by beating Russia 45 to 36.
Led by the 2004 Olympic winner Aldo Montano, the Italians prevented the home side the grand slam sword. The Russian squad is coached by Frenchman Christian Bauer.
Since 1995, Italy has lost three finals against Russia and Romania.
The bronze medal went to Germany.
Meanwhile in the women's event, Russia beat Ukraine by 45 to 41 in the final on Friday to qualify for the Olympic Games in Rio de Janeiro next year.
Sofia Velikaya, who was crowned individual champion earlier in the week, saw off Ukraine's Olga Kharlan in the final of the group stages to clinch a victory for the home side. Kharlan was the 2013 and 2014 champion.
The Russians had been in search of a win on home soil since 2012.