Eid begins, but not necessarily with a celebratory atmosphere
Comments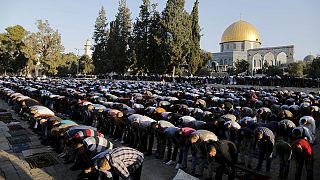 Eid-al-Fitr has begun. The Muslim celebration marking the end of Ramadan begins with the start of the lunar month of Shawwal and traditionally lasts three days.
Gaza
The festival begins with prayer, which was led in Gaza by Khaled Mashal, the leader of the Hamas Islamist group.
Worshippers congregated in an area devastated during 50 days of fighting last summer.
Kids in Shuja 'Ieh in East Gaza playing around the ruins of their homes, but still have a big smile celebrating Eid pic.twitter.com/IjsFy9aWDv

— Abbs Winston (@AbbsWinston) July 17, 2015
The conflict killed almost 2,300 people and damaged around 100,000 buildings and structures. Many residents in damaged neighbourhoods continue to live among the debris.
Jordan
At a Jordanian camp for Syrian refugees, the mood was sombre.
Mohammed al-Hiraki arrived in Jordan in January 2013. He is one of more than four million Syrians to have fled their homeland as a result of the civil war.
He spoke of his nostalgia for his home nation.
"We feel that during this Eid, we are very far from our children. Far from our children, far from our country," he said.
Cairo
But in the Egyptian capital there seemed to be a more celebratory spirit at the start of Eid. The festival is traditionally a time for family gatherings and the exchange of gifts.
PHOTO GALLERY: Thousands of Egyptians perform Eid Al-Fitr prayer http://t.co/Y3rteoishIpic.twitter.com/8sN5rDMGUW

— Cairo Egypt (@CaiRRoEgypt) July 17, 2015