Iranians celebrate a future with no sanctions after nuclear deal
Comments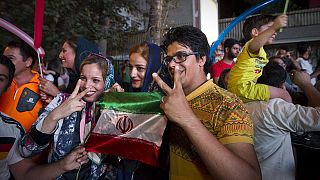 Iranians have been celebrating since the news emerged from the talks in Vienna of the landmark deal with the West over its nuclear programme..
For most the curbing of its atomic ambitions is a price worth paying for the lifting of sanctions which have blighted so many aspects of life in the country.
"For ages now sanctions have really had an effect, hopefully the lifting of them will have a positive impact on people's lives.," said one woman.
From limited food to the high price of fuel and even restricted medicines, all were a source of suffering .
Joyous Iranians celebrate the nuclear deal on social media http://t.co/EeDLUlbEfp#IranWinsPeace#IranDeal

— Huffington Post (@HuffingtonPost) July 14, 2015
"They'd say that sanctions would have no impact and we'd cope … we'd tolerate the shortages and it wouldn't cost us. But we could have begun this positive process right after President Khatami's time 12 years ago and it wouldn't have been so expensive," complained one man.
Iranian's hope the deal will rejuvenate the economy and that trade with other counties will become the norm once again.
Reporting for euronews in Tehran was Javad Montazeri.
"Even though announcing the deal and the prospect of lifting sanctions have triggered a wave of happiness among people, this is just the beginning of a long journey if Iran is to improve the living standards of its people," he said.