Greek government prepares for Wednesday's critical vote on reforms
Comments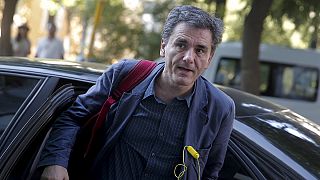 The countdown is on to the critical vote in the Greek parliament on Wednesday. At the ruling Syriza party and its junior coalition ally's headquarters there were meetings to prepare for the parliamentary sitting to pass laws which include plans for tax hikes and pension reforms .
Prime Minister Alexis Tsipras will have to smother dissent from hardliners in his own party and may have to count on votes from opposition lawmakers.
"I don't know how many intend to vote against or who they are, but they have to take responsibility for whatever decision they make. What's important is that the country must be governed, it must stand on its own two feet and fulfil the obligations it has," Syriza party member and MP George Varemenos told reporters.
The German finance minister has revealed some of his government would have preferred a temporary Greek exit from the euro. He stressed the need to keep up the pressure on Athens.
"Because – and we should not fool ourselves about this – we (the eurozone) have lost credibility. It is not a matter of a single country. And that is why it is so important and we can go into many particular cases here, that we start implementing the points we have decided."
Greek banks remain closed and there is mounting anger on the streets at both the government and the creditors. Wednesday is yet another deadline in the drama with one newspaper declaring the government is "in quicksand after the deal with creditors".