Markets react to potential Greek bailout
Comments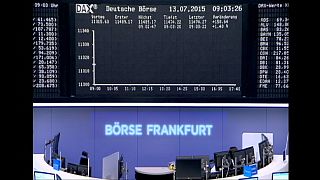 EU President Donald Tusk's tweet – "all ready to go" set the financial markets on a surge. European shares rose in early trading. The eurozone's blue-chip Euro STOXX index rose 1.3 percent while the pan European FTSEurofirst 300 was up 1 percent by just after eight o'clock Central European Time.
In London the FTSE 100 rose 0.6 to 1.4 percent. Markets in France and Germany rose by 1.9 percent and 2.9 percent respectively.
The Greek Prime Minister Alexis Tsipras said the growth package and debt restructuring will make markets understand that Grexit is a thing of the past.
Follow the live updates on the situation