Tsipras in warp drive to save Greece
Comments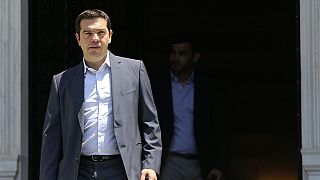 Less than a week after six out of ten Greek voters backed Alexis Tsipras's rejection of austerity conditions attached to a third bailout proposal, the prime minister has made a counter-proposal to the creditors. Its 13 pages reiterate some points Greece made before the referendum and some measures the European Commission had on the table.
Athens is requesting 53.5 billion euros this time, out of the European Stability Mechanism, and would use most of that to cover its debts to the European Central Bank and International Monetary Fund, and other loans, up to 2018, in theory.
In return, Tsipras would tighten pensioners' belts as part of a spending roll-back totalling €13bn. The sun is setting on early or partial retirement.
The standard age would be gradually raised to 67 over the next few years although ending work at age 62 could be possible for those who have paid into the benefit plan for 40 years. Tsipras now seems ready to ditch the system of top-ups for the lowest pensions by 2020.
While those supplements will be phased out, pensioners' contributions towards health care get raised from 4% to 6% in the reform plan.
Athens accepts ending tax breaks for the more affluent Greek islands — the ones that do better from tourism — but wants to hang on to them for the smaller or more remote islands.
The Tsipras proposal is to keep some sales taxes at existing levels, a low 6% on pharmaceuticals, books and theatre; a modest 13% VAT on basic foodstuffs, hotels, energy and water; but conceding, unlike before the referendum, an increase to 23% for restaurants and catering, this rate also applied to most other things.
Corporate tax increases to 28%, and there are even provisions to phase out tax privileges for the shipping industry. Another major shift: Tsipras is now open to
privatisation of regional airports and ports — among them Thessaloniki and Pireaus