South Carolina votes to remove Confederate flag from state grounds
Comments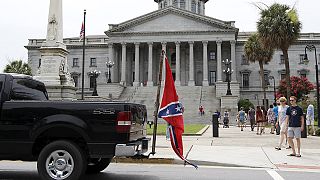 The Confederate flag which flies over South Carolina's statehouse grounds is set to come down after the legislature voted to remove it early on Thursday (July 9) morning.
It followed a 13-hour long debate between House Republicans and Democrats who eventually passed the bill 94-20. The bill will now be passed to Governor Nikki Haley to be signed into law later in the day.
Emotional plea by SC State Rep, a descendant of Jefferson Davis, to take down the flag – then House votes to do so: https://t.co/sezjGvAQeK

— Michael Moore (@MMFlint) July 9, 2015
Flag of hate, Flag of heritage
The flag, which dates back to the American Civil War (1861-65) had become synonymous with slavery and racism for many and a symbol of Southern heritage for others.
Amazing Grace SC. S897 will remove the Confederate Flag from the State House grounds forever. We honor the Emanuel9 pic.twitter.com/mMHzmCbbHX

— Sen. Marlon Kimpson (@KimpsonForSC) July 9, 2015
To the people who believe the Confederate flag is a symbol of Southern heritage: It is not: http://t.co/uGTdcvdIf6pic.twitter.com/gwmRIciNhj

— Slate (@Slate) July 1, 2015
Debate over the flag received renewed scrutiny following the massacre of nine black worshippers during Bible study in a church with a historically black congregation in Charleston. The accused gunman was seen posing with the Confederate flag in a photo posted on a website, setting out a racist manifesto.
The moment was historic enough for a mobile phone photo to immortalise the vote.
Lawmakers waiting with their phones to capture vote on #Confederateflagpic.twitter.com/R9BPbaPUvt

— Jamie Self (@jamiemself) July 9, 2015