Obama determined on Iran deal that will last
Comments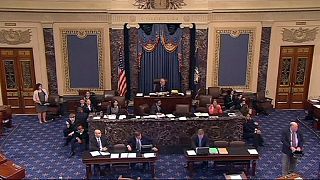 If President Obama announces a nuclear containment deal with Iran this week, an army of critics led by Republican hawks in the US Congress would keenly like to torpedo it. How likely is that? Well, a review law Congress passed in May allows the Senate a voice on a nuclear agreement yet not to block a deal. And a full-on Democratic rebellion against the president is not considered realistic. But a man who hopes to run for the US presidency himself keeps discrediting the negotiations — Republican Lindsay Graham.
Hitting the campaign trail, Graham said: "I would love to end the nuclear ambitions of Iran without firing a shot. But you have to know who you are talking to and what they actually want. I believe they want a nuclear weapon to assure regime survivability. I believe they are going to push for as much as they can get as long as they can push. And the idea of the UN being a wall between us and a break-out by Iran is not very comforting to me. This is North Korea in the making."
Although opponents like Graham might mount a resolution against lifting the congressional sanctions, Obama still has a pen up his sleeve to defeat them. You need a two-thirds majority to override a presidential veto, and there are 100 Senators in Congress.
John-Christopher Bua, a political analyst at Georgetown University, told us:
"The veto pen would be Obama's ultimate weapon in this situation. And I don't think it needs to go that far. He just needs 34 Democrats to guarantee that the Republicans will not overwhelm him to counter the legislation and the deal that he wants to put through. So, I don't think he is going to need to take his pen out of his quiver."
The president and his nuclear negotiators have been waging talks on two fronts, then: with the Iranians and in Washington.
Our correspondent Stefan Grobe summed up: "It looks like an Iran deal will pass Congress. But if President Obama had to wield his veto power to forge ahead, that would put a deal on shaky political ground, and make Iran a prominent attack issue in the 2016 election campaign."