Greek spending spree fueled by bank crisis
Comments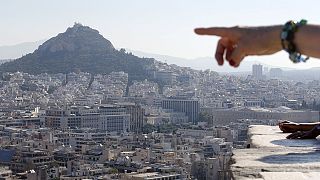 Those Greeks who can afford it are buying up high value electrical products, using cards, not cash, since ATMs only allow withdrawals of 60 euros at a time. That is, if you are lucky enough to find one stocked with 20 euro notes. Otherwise you get €50 or nothing. By Monday, the banks are predicted to run dry.
GREEKBAROMETER: Queues for Acropolis still longer than ATM queues. #Greece#GreeceCrisispic.twitter.com/EZVQaUnzVG

— Ryan Heath (@PoliticoRyan) July 7, 2015
ATM lines in Greece are so orderly and un-Greek, as if to symbolically say "We are European," or "We are not feckless or greedy."

— Nicholas Christakis (@NAChristakis) July 9, 2015
And where there is crisis, there is opportunity. An enterprising cafe has started delivering coffee to those waiting in long queues at certain ATMs.
One coffee shop in Athens has started delivering coffee to those waiting in ATM queues. #Greece

— Imelda Flattery (@Imeldaflattery) July 9, 2015
Retail suppliers also report being paid in two or three days when normally their customers would take three months to settle debts, according to the Naftemporiki newspaper website.
It might seem surprising in a country which is running out of cash that citizens are so keen to spend. And their willingness to pay their debts to the government is not merely a desire to show solidarity with Alexis Tsipras, who has made more efficient revenue collection a central pillar of his unsuccessful proposals to secure more international funding.
But the reason is that Greeks remember what happened in Cyprus in 2013, when, for the first time in the EU, depositors lost money as part of a bank rescue package. In that case it was only depositors with more than 100,000 euros of savings who lost out in the so called bail-in, but Greeks are worried that this time it could be lower so they are trying to reduce their balances in return for assets. There is also a fear that should Tsipras fail to make a deal with creditors prices will skyrocket in the event of a Grexit.
One jeweller even refused to sell a million euros of stock because he preferred to keep it than have money in the bank, according to the New York Times.
In theory deposits throughout the EU are protected up the 100,000 euro level but the Financial Times reported that the authorities could get round the issue, if they called the measure a one off tax on deposits.
For full coverage of the crisis see our "Greek debt page": http://www.euronews.com/tag/greek-debt/