How to treat the Greek problem: Europe's very different views
Comments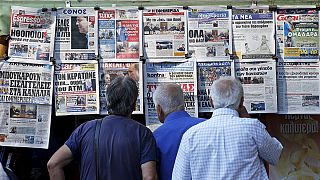 The twists and turns in the Greek crisis are a talking point right across Europe, with mixed opinions on what should now be done.
One woman in the Greek capital, Maria Giakoumatou, said: "The country must return to the course it was on before. There was order in our lives. What more is there to say.
"The situation is very difficult and the future of our children has been destroyed."
In Germany, many people remain steadfast: money cannot be given without strict conditions.
In Munich, resident Peter Rother said: "I'm annoyed that we keep sending money over there which we will probably never see again, while Greece does not see the need to do something in return. That's very annoying."
But other people say the problem has to be resolved collectively in Europe, and Greece must be given help.
Rome resident Fabio Viola said: "The problem is the Greek debt also affects us. They also owe us, as we too contributed towards helping them.
"If they can't pay back their debt, we too will have problems. What is sure is that we're not in a good way; none of the Mediterranean countries are in good shape. It's a big problem."
There is also the view that being too tough on Greece is good for no one.
Madrid resident Mari Cruz Delgado said: "If they don't make it easy for them they won't be able to pay. If you have a mortgage and can't pay, it's simple: either they make it easier or you can't pay. Both lose, lender and borrower."