Iran nuclear talks continue as latest deadline passes
Comments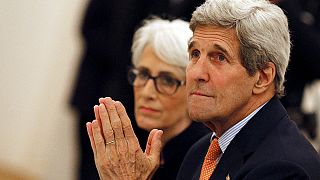 Bridging gaps at the Iran nuclear talks has proved so difficult that yet again a deadline has been missed.
There is a clear will on both sides now to complete this agreement and to keep at it until we get there
Tuesday was supposed to mark the end of this process but despite reports of progress, Tehran and world powers have now given themselves until Friday at least to reach a deal in Vienna.
"We are continuing to negotiate for the next couple of days," EU foreign policy chief Federica Mogherini said outside the hotel where the marathon talks between Iran, Britain, China, France, Germany, Russia and the United States are taking place.
The pace of US and EU sanctions relief in return for Iran curbing its nuclear programme is said to remain a serious sticking point.
Deadline has passed. #Iran nuclear talks continue. http://t.co/fJipR94MhMpic.twitter.com/Yh4ugRbq99

— Reuters Top News (@Reuters) 7 Juillet 2015
"As you know there is a range of issues where there are political discussions that need to be had and there will need to be trade-offs," Britain's Foreign Secretary Philip Hammond told reporters.
"There will need to be some difficult decisions made on both sides if we are going to get this done. But I think there is a clear will on both sides now to complete this agreement and to keep at it until we get there."
Another thorny issue, officials say, is Iran's demands for a UN arms embargo and ballistic missiles sanctions to be lifted.
The comprehensive deal under discussion is aimed at curbing Tehran's most sensitive nuclear work for a decade or more, in exchange for relief from economic sanctions that have slashed Iran's oil exports and crippled its economy.
The United States and its allies fear Iran is using its civilian nuclear programme as a cover to develop a nuclear weapons capability. Iran insists its programme is peaceful.
An agreement would be the most important milestone in decades towards easing hostility between the United States and Iran, enemies since Iranian revolutionaries captured 52 hostages in the US embassy in Tehran in 1979.
A deal would also be an important achievement for US President Barack Obama and Iran's pragmatist president Hassan Rouhani, but both leaders face scepticism from powerful hardliners at home.
Our correspondent at the talks, Reihaneh Mazaheri, said:
"Resolving the remaining issues requires more time. This is the only news to have come out from the talks. Negotiators say they were not supposed to extend the deadline. During the last two days, talks between foreign ministers and their deputies went into the night. Both side emphasised that it is time to resolve the disputes, making it a case of now or never."