Greek PM to present proposals ahead of eurozone summit
Comments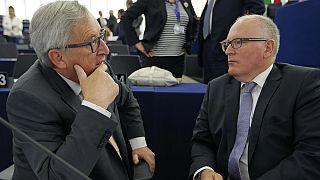 Gearing up for crucial crunch talks, the Greek Prime Minister is expected to present new proposals to an emergency eurozone summit later on Tuesday.
Greek bank coffers are down to their last few days of cash and the European Central Bank is offering no relief, meaning Alexis Tsipras must convince EU lenders to fast-track a new bailout deal.
European Commission president Jean-Claude Juncker told MEPs in Strasbourg that a Grexit should be avoided, adding that there are those who are campaigning otherwise, without naming names.
Fobbing off heckles from the house, Juncker went on the explain that the pressure was on Athens to come up with convincing proposals:
"The ball lies in the court of the Greek government and the Greek government must explain in Brussels today, how they want to proceed. The President of the European Commission and the European Commission are ready to do whatever necessary within a reasonable time frame to reach an agreement."
The euro currency two major powers, France and Germany made clear on Monday that the door was still open for an agreement to save Greece from financial collapse and a euro exit.
With high stakes for both Athens and Brussels, it appears to be a case of who will blink first.