ECB keeps tight funding grip on Greece's banks
Comments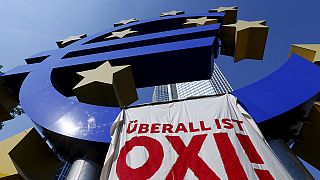 It is not the answer that Greece's Central Bank wanted to hear.
Its hopes of more financial support have been dashed after the European Central Bank opted instead to keep the liquidity lifeline to Athens at its current level.
So-called Emergency Liquidity Assistance – a drip feed of loans that has risen since April to 89 billion euros – has been keeping the Greek economy from collapse.
But the ECB's decision to maintain the status quo gives Greek banks little time before they use up the funding available, ensuring that they will remain closed in the coming days as cash runs dry.
And the European Central Bank has gone further.
It says Greek banks must post more collateral in order to receive the existing emergency assistance – a move that puts them under even greater pressure.