Al Shabaab kills quarry workers in Kenya gun attack
Comments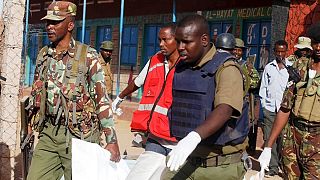 The Islamist group Al Shabaab says its gunmen were behind an overnight attack that killed at least 14 people, mostly quarry workers, at a residential complex in northeast Kenya.
Kenya shall never be cowed by these evil murderers
They said they targeted Christians – many shot dead as they slept.
The raid was at the Kenyan border with Somalia, in Mandera, where 36 quarry workers were murdered in December.
Al Shabaab has vowed to pursue its campaign against Kenya until the country withdraws its troops from an African Union force fighting the militants in their home base of Somalia.
"Once again, this attack is a clear reminder that al Shabaab and its collaborators are determined to disrupt and subvert our way of life,".
Kenyan Interior Minister Joseph Nkaissery told reporters.
"I take this opportunity to reiterate that Kenya shall never be cowed by these evil murderers."
He said security reacted swiftly to prevent a higher death toll after the group opened their attack by blowing up an entrance gate to the residential area.
The injured were flown to Nairobi where President Uhuru Kenyatta
visited them in Kenyatta National Hospital.
President visits victims of Mandera attack: https://t.co/Ri9Dhy9jhhpic.twitter.com/Krh9RyG3U5

— State House Kenya (@StateHouseKenya) July 7, 2015
The raid will heighten pressure on Kenyan authorities to beef up
security in response to al Shabaab attacks, the worst of which killed 148 people at a university in eastern Kenya's Garissa County in April.
After the Garissa attack, critics accused the security forces of responding too slowly, one reason cited for the number killed.
Kenya's northeast border with Somalia is widely considered a security weak spot, given the challenge of policing such a long frontier, poor coordination between security services, and a culture of corruption that allows anyone prepared to pay a bribe to pass unchallenged.
Al Shabaab aims to topple Somalia's Western-backed government and wants to impose its own strict version of Islamic law on the country.