Hollande and Merkel urge Greece to make 'credible' proposals
Comments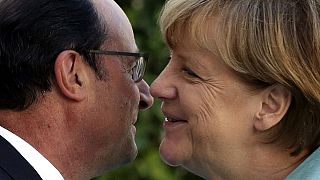 The leaders of France and Germany have told Athens that the door is still open for debt negotiations with creditors.
The door for talks remains open
But at urgent talks in Paris on Monday following the emphatic 'No' vote in Greece, Francois Hollande and Angela Merkel urged the government of Alexis Tsipras to make 'credible' proposals quickly.
The euro zone's two biggest countries are eager to present a common stance.
"We say very clearly that the door for talks remains open and tomorrow's meeting of euro zone leaders should be understood in this sense," Merkel said.
But she added that the requirements for starting negotiations about a concrete deal from Europe's bailout fund are not present at the moment.
Greek crisis: Merkel and Hollande begin talks in Paris (photos: Reuters & EPA) http://t.co/9tbJipglDspic.twitter.com/j8EQDGQRai

— Graeme Wearden (@graemewearden) July 6, 2015
Germany is Greece's biggest creditor and public opinion there has hardened in favour of a Greek exit from the euro single currency bloc.
Our correspondent in Paris, Fabien Farge, said: "For François Hollande and Angela Merkel, the ball is well and truly in Alexis Tsipras's court. The Greek prime minister must come up with clear and specific proposals This Tuesday is a crucial day. First of all, with a meeting of Eurogroup finance ministers, then at a summit with the other 18 heads of state and government, in Brussels."