What is the market price of valour for Greece?
Comments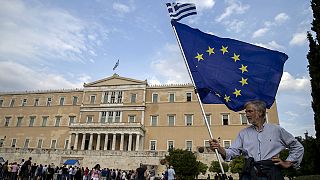 In 1981, Greece had just restored democracy, ending the rule by military junta. 1981 was also historic for Greece as it became the tenth member of the European Community, today the EU. Since then, 18 other countries have joined the bloc.
Thirty-four years later, and many stages of the continental integration project later,
including efforts to weather a major economic and financial crisis, a Greek leader comes along to give the dream perhaps its biggest fright of all — rocking the boat like no one ever has.
Greece is considered one of the developed countries. A developed country has never defaulted on its sovereign debt. The magnitude of uncertainty over what the result of that might be now has some authorities and experts hesitating over what to call this, others not.
Jeroen Dijsselbloem Eurogroup Chief said: "I am just stating the facts: the facts are that the programme will expire tonight, and Greece… My information is that they will be in default tomorrow."
Market analyst Jasper Lawler said: "That does officially put them in arrears with the IMF, not necessarily a default but arrears… It puts them inside the company of the likes of Zimbabwe."
Deadlines missed, compromises rejected, rescue buckets emptied… The International Monetary Fund is not the only powerful institution facing defiance, but its credibility and authority puts it right up there on Mount Olympus, so to speak.
Fifteen years after celebrating the advent of the euro, others holding fading IOUs from Greece include the European Central Bank.
This focuses big attention on the viability of the whole 19-member eurozone — even the European dream.
There aren't any instructions in the treaties on how a country can pull out of the euro and go back to its own national currency.
And Greece doesn't intend to. Prime Minister Tsipras has said it repeatedly, and ordinary Greeks by the thousands have been demonstrating the strength of their attachment to the European Union. On the face of this, if Greece were asked to leave, it would object.
But however much they are appreciated, members are expected to honour club rules, in this case honour sovereign debt. What message would impunity for Greece send to investors, or the other members making efforts? The EU accepted Greece's capacity to honour its commitment to the euro in the first place on trust. Trust is in the balance.