Indonesia to 'modernise' defence force after military plane crash
Comments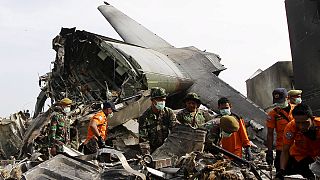 Indonesia's president has promised to modernise the country's defence force after a military plane crashed onto an urban area on Tuesday.
More than 140 people are known to have died after the Hercules C-130 transport plane plunged into houses and a hotel. Over 120 people were on board the aircraft; other people were killed on the ground, it's not known how many.
President Joko Widodo says there will be a review of Indonesia's ageing air force fleet, as well as a "fundamental restructuring" of weapons management and procurement.
The 50-year-old plane crashed shortly after takeoff from a base in Medan on the island of Sumatra. The aircraft is said to have left the capital Jakarta and stopped twice before landing in Medan.
Local media reports said the pilot had asked to return because of technical problems.
The authorities say it was fit to fly.
Officials said most of those on board the plane were from military families. It's common practice for relatives to take military flights.
Search and rescue teams have pulled dozens of bodies from the wreckage; 142 have been sent to local hospitals.
The military's eight other Hercules planes have been grounded while an investigation takes place.
The Indonesian air force has now lost four C-130s, reducing its transport reach in an archipelago that stretches more than 5,000 kilometres from its western to eastern tips.
The crash has highlighted Indonesia's poor aviation safety record. The Aviation Safety Network says there have been 10 fatal crashes involving Indonesian military or police aircraft over the last decade.