Catania supporters protest match-fixing
Comments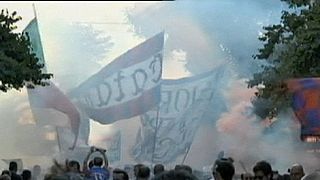 Some 3,000 supporters for the Sicily-based football club Catania have held street demonstrations amid allegations of match fixing.
It is alleged the teams executives paid rival players to throw matches to avoid relegation from Serie B to Third division in the season that has just ended.
Italian police say they used wire taps which found that Antonio Pulvirenti, the president of Catania football club, was directly involved.
His vice president, Pablo Cosentino, and the club's former sport executive, Daniele Delli Carri, were also arrested.
Ten other people, including five players and the owner of a rival club in Messina, are under investigation for manipulating at least five games played in 2015, police and prosecutors said.