US annual gun killings far outnumber its worst toll from terrorism
Comments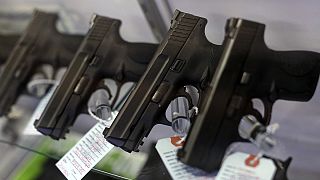 Increasingly clear lines are being drawn in the United States between the dangers of racial extremism and the danger of guns.
As the country mourned the Charleston church shooting victims, yes, President Obama spoke about race, but also about weapons. He cited 2013, when 11,000 people were killed with guns in the US.
"You don't see murder on this kind of scale, with this kind of frequency in any other advanced nation on earth. Every country has violent, hateful or mentally unstable people. What's different is not every country is awash with easily accessible guns."
It was the 15th time Obama spoke in the wake of a mass murder with firearms.
In July 2012, a 24-year-old Ph.D. student in neuroscience killed 12 people and wounded 70 at a cinema in Aurora, Colorado.
Six months later, a 20-year-old fatally shot 20 children and 6 adults at the Sandy Hook Elementary School in Newtown, Connecticut — then his mother, at their home, and himself.
Obama signed a directive on the selling and possession of guns after that.
"We will make it easier to keep guns out of the hands of criminals by strengthening the background check system. We will make sure mental health professionals know their options for reporting threats of violence, even as we acknowledge that someone with a mental illness is far more likely to be a victim of violent crime than the perpetrator."
But the Republican-dominated Senate rejected the bipartisan plan. It fell six votes short of passing. Obama called it: "a shameful day in Washington".
That was: "…a victory for who? A victory for what?" he asked.
The National Rifle Association continued to warn that expanding background checks would be a first step toward federal confiscation of guns.
Some 40% of the guns sold in the US are sold with no background checks.
The country has the highest level of gun ownership in the world: 88.8 per 100 people.
And the 2013 gun fatality death toll was far more than three times the death toll of 9/11.