Migration: Divisions emerge over EU deal
Comments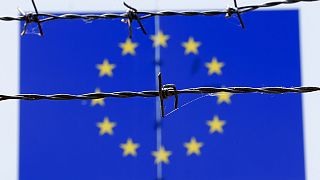 Details are emerging of strong differences of opinion between Europe's leaders as they try to address the problems caused by soaring numbers of migrants.
"The time has come for the heads of government to have this discussion."
For seven hours in Brussels, they debated the relocation of 40,000 Syrian and Eritrean refugees currently in Italy and Greece, along with another 20,000 waiting outside EU borders.
A voluntary scheme with no mandatory quotas has finally been agreed.
Italian Prime Minister Matteo Renzi is not afraid to let his anger show. "If there had been no solidarity over a small number like 40,000," he said, "this would have been an insult from Europe."
Renzi said to have told #EUCO leaders that failure to receive 40k migrants would mean 'they don't deserve to be called Europe' #migrationEU

— Europe Decides (@EuropeDecides) 26 Juin 2015
Migration is an acute issue for Hungary, where thousands enter by land from the east. The country, along with Bulgaria, has been granted an exemption from the new deal. The UK has opted out completely.
Austrian Chancellor Werner Faymann says seven countries could not accept the strict formulation as proposed. "It was a very emotional debate," he told reporters, "which proves the time has come for the heads of government to have this discussion."
Latest figures from the "EU": http://frontex.europa.eu/news/monthly-analysis-of-migratory-trends-may-2015-f02aLNshow that 153, 000 migrants have been counted on Europe's borders so far this year. That is a 149% increase from 2014.