8 of the best 'new' words to make the latest English dictionary
Comments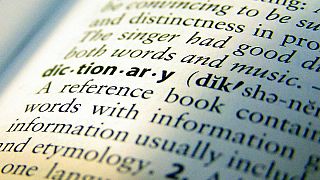 Oxford English Dictionary (OED) has released 500 words that have been newly-adopted into their latest edition.
Many of the nouns, adjectives and verbs are already likely to be established – entry into the dictionary is just official recognition.
1. Meh is an "interjection expressing indifference or a lack of enthusiasm". OED said it was in use online more than two decades ago, but was popularised in the hit cartoon series The Simpsons.
OED has adopted it much later than rival publisher HarperCollins, who added it to Collins English Dictionary in 2008.
---
2. Twerking is a "type of dancing which emphasises the performer's posterior". OED says the word is nearly two hundred years old, having, originally spelt twirk, referring to a "twisting or jerking movement; a twitch".
Dear Oxford English Dictionary, 'Twerk' is not a new word; that's where people from Yorkshire go in the morning. Regards, Charles.

— Prince Charles (@Charles_HRH) June 25, 2015
---
3. Lipstick is perhaps not what you are thinking, unless you are a sports fan. It's the slang term for the treble 20 on a dartboard.
---
4. Masshole is a blended word that is a term of contempt for a native or inhabitant of the state of Massachusetts.
Let this sink in. The Oxford English Dictionary (OED</a>) added the word &quot;Masshole&quot;: <a href="http://t.co/6lScY9bawH">http://t.co/6lScY9bawH</a> <a href="http://t.co/SwJvoL7BSX">pic.twitter.com/SwJvoL7BSX</a></p>&mdash; Only In Boston (OnlyInBOS) June 25, 2015
---
5. Cisgender identifies a person "whose sense of personal identity corresponds to the sex and gender assigned to him or her at birth", in contrast to its opposite, transgender.
OED says the cis- prefix derives from Latin and means "on this side of". It normally forms words, such as in this case, the opposite to the trans- prefix, especially in relation to geographical features, such as cisatlantic and transatlantic.
---
6. Freegan is a "person who eats discarded food, typically collected from the refuse of shops or restaurants, for ethical or ecological reasons".
France's first freegan restaurant opened in spring 2014 – the idea being to make dishes from food discarded from the Rungis market.
Three men or freegans were charged by police last year for helping themselves to food from behind a British supermarket. However the Crown Prosecution Service eventually dropped the case, saying pursuing it was not in the public interest.
Earlier this year a law was approved in France that will ban supermarkets from throwing away or destroying unsold food, instead obliging them to donate it to charity.
---
7. Tenderpreneur is all about corruption: a civil servant or government worker who abuses their power by influencing the awarding of state contracts or tenders.
The New Statesman, writing about South Africa in 2010, said: "The practice of high-ranking members of the party, and those close to them, benefiting from decisions about tenders of the government has become so widespread that the title "tenderpreneur" has been coined to describe the beneficiaries."
---
8. Totes is likely to have traditionalists and protectors of the English language seething with rage. It's simply a shorter form of totally.
"Totes is recorded from 1887 in the sense of 'total abstainer' in E. J. Mather's book Nor'ard of Dogger," according to interestingliterature.com "'The fishermen are all "totes"' (as in total abstainers from alcohol). This is the forerunner to the modern word 'totes', slang for 'totally', used as an adverb rather than a noun, as in the infamous recent phrase, 'totes amazeballs'."
---
Image credit: Caleb Roenigk/Flickr