Anxious pro-euro protesters call for Tsipras to sign a deal with lenders
Comments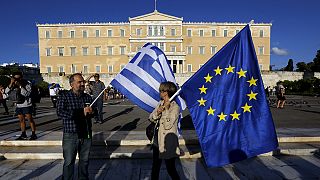 Several thousand pro-European Greeks staged a demonstration in favour of staying in the euro as EU leaders discussed their country's fate in Brussels..
The rally underscored the fear among Greeks over the fall out from the long-running negotiations between Athens and its creditors.
One man said: "We stand by Tsipras, we try to support him, but it has gone too far and it has to end. Enough. Greece belongs to Europe. He should sign, return and then discuss finding a solution on how to organize our country. Enough is enough".
"A deal, even a bad one, when it comes together with a significant debt reduction to make it viable, is a good deal," said another.
Reuters: In Athens, flag-waving Greeks rally to show support for euro http://t.co/0ioRKA6Ki0

— NewsBlogged (@NewsBlogged) June 22, 2015
Tensions later boiled over when anti-Europe anarchists clashed with demonstrators.
Most who turned out on Monday night regarded themselves as Greece's silent majority , but if Tsipras does return with a deal he will have to try and unite a country behind him which has been divided by years of bighting recession.
.
"Shouting "Greece-Europe-Democracy", demonstrators underlined that, however bad a deal may be, it's still better than a GREXIT, which, as they say, would be disastrous. They are therefore trying to impose maximum pressure on the government, while negotiations intensify," summed up euronews reporter Panos Kitsikopoulos.