Globsec ends with warnings on Russia, ISIL, and refugees
Comments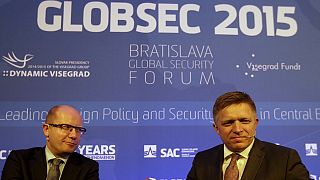 The annual global security conference held in the Slovak capital, Bratislava, Globsec, has ended with delegates painting a grim picture of the challenges ahead.
Top of the agenda this year was ISIL and its rampage through Syria and Iraq, but there was also the Ukrainian crisis; closer to home and no less worrying.
"Europe is facing unprecedented security challenges on many fronts, not only the stability of Ukraine that has been seriously shaken but also the tensions with Russia which are defining a relationship in the upcoming decade probably, and also the big wave of immigrants from Northern Africa," said the event's founder Robert Vass.
The UN says there are now more refugees to deal with than at any time since WWII, either fleeing from conflict or poverty.
"We have provided refugees with a safe and secure environment, but it is not enough, because these people need services, they need shelter, food, health and education. This is a challenge, we want to help them and we want the international community to help us in order to be able to provide them a decent hope for a better future," said the Foreign Minister of the Kurdish regional government Falah Mustafa Bakir.
Russia's propaganda drive also alarmed some delegates, especially what was called its media bias in reporting on the Ukraine conflict. A special session dealt with that issue.
This was the tenth anniversary of Globsec, which now attracts over 1000 delegates including heads of state and prime ministers, from
more than 70 countries.