Highlights from day 9 European Games, Baku
Comments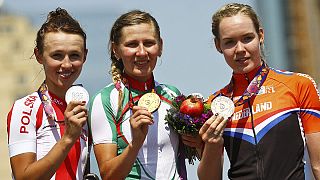 On day nine of the inaugural European Games from Baku in Azerbaijan.
After more than three hours of racing less than a second separated the top three.
The hard sprinting Alena Amialiusik of Belarus who pipped Katarzyna Niewiadoma of Poland and Annemiek Van der Breggen to the post.
Over a demanding 120.7 km course, which saw a technical section through the cobbled streets of Baku's old town, the Dutch team had looked the strongest.
But a break down in communication between Van der Breggen and her team-mate Ellen van Dijk cost them dearly.
Gymnastics
Aliya Mustafina of Russia is the golden girl of gymnastics after claiming her third winning medal on uneven bars.
The 20-year-old, also prevailed in the individual all-around final and artistic team event earlier this week.
Meanwhole Oleg Verniaiev of Ukraine, claimed a second personal gold medal by winning the men's vault final.
Diving
The German pair of Saskia Oettinghaus and Louisa Stawczynski took gold in the women's synchronised 3m springboard at the Baku Aquatics Centre.
The girls were slow getting started but went from strength to strength as the event progressed pushing a talented Russian team, Elena Chernykh and Maria Polykova, into second place.
Ukrainians Marharita Dzhusova and Diana Shelestyuk claimed the bronze.