US 'fails to recognise' police lethal force should be last resort
Comments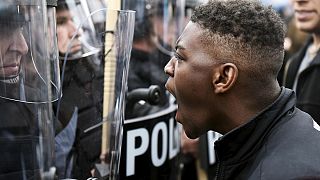 Laws in every US state fail to recognise police should only use lethal force as a last resort, a new report has found.
Amnesty International USA say 50 states and the District of Columbia do not comply with the international standards covering when law enforcement officers should open fire.
Nine states – including Ohio, South Carolina and Michigan – have no laws at all governing police's use of lethal force.
The report comes after the deaths of several unarmed black men at the hands of US police, including Michael Brown, Eric Garner and Freddie Gray.
"Police have a fundamental obligation to protect human life. Deadly force must be reserved as a method of absolute last resort," said Steven Hawkins, executive director of Amnesty International. "The fact that absolutely no state laws conform to this standard is deeply disturbing and raises serious human rights concerns."
There is no official data on police-related deaths in the US.
Amnesty says estimates put the number of people killed by law enforcement between 400 and 1,000.
British newspaper The Guardian says 519 people have been killed so far this year, as of June 18.
Amnesty says states' laws allow for the use of lethal force outside the strict criteria set out by international law, fostering a "cycle of impunity that prevents holding law enforcement officers accountable".
It has prompted Amnesty to call for the US to act.
"A nationwide review of lethal force laws, policies and training is urgently needed," said Hawkins. "We are calling on the president and the Department of Justice to create a national task force to carry out this review and institute comprehensive reforms, including of oversight and accountability mechanisms. If the United States is to comply with its international legal obligations, these policies must be brought in line with international standards."