Hong Kong lawmakers reject Beijing backed proposal for electoral reform
Comments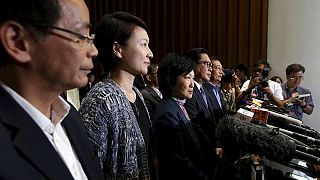 Hong Kong's legislature has vetoed a Beijing-backed proposal for electoral reform that would have seen the territory's leader elected from a shortlist chosen by the authorities.
The "universal suffrage" package had been criticized by opposition pro-democracy lawmakers and activists as flawed and undemocratic.
Hundreds of Beijing supporters had converged outside government buildings as city legislators voted on the measure that aimed to define the Chinese-controlled city's democratic future.
The vote happened earlier than expected, with only 37 of the legislature's 70 legislators present. Of these, 28 lawmakers voted against the blueprint and 8 voted in favour, while one did not cast their vote.
Moments before the ballot, a large number of pro-establishment and pro-Beijing lawmakers suddenly walked out of the chamber.
The no vote had been expected and will likely appease some pro-democracy activists who had demanded a veto of what they call a "fake" democratic model for how Hong Kong chooses its next leader in 2017.
"This veto has helped Hong Kong people send a clear message to Beijing…that we want a genuine choice, a real election," said pan-democratic lawmaker Alan Leong.
"This is not the end of the democratic movement," he said. "This is a new beginning."
There have been fears that a veto would lead to fresh unrest on Hong Kong streets between pro-democracy activists and Beijing supporters.
Mainland Chinese media warned that a veto of the proposal could pose a threat to the financial centre.
REUTERS