Migrant crisis putting European unity to the test
Comments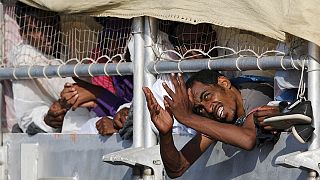 As EU countries flounder over proposals to deal with the migrant crisis in the Mediterranean, the Pope has criticised nations closing their doors to those he said were seeking protection.
France and Austria have stepped up border controls as migrants attempt to cross from Italy, with thousands being turned back.
"So far, over 110,000 people arrived to Europe (this year)," explained Iosto Iba, spokesperson, UNHCR Rome. "While in Italy there was not a big increase in the number of arrivals, there was a huge increase in the number of sea arrivals in Greece, where there was a six times increase with respect the same level of the previous year in 2014."
Faced with the escalating crisis of refugees arriving on Europe's shores, France has announced 11,000 new places in centres for asylum seekers by 2016.
Interior Minister Bernard Cazeneuve said the plan aimed to provide long-term solutions.
"We can't leave Greece and Italy alone with this problem. Faced with this burden the European Union needs to take charge of these hotspots in Italy and Greece as well as finance them, and we need to send our own services to help them."
The dramatic scenes along the French-Italian border where African migrants were forcibly removed from makeshift camps on Tuesday may act to focus minds in Europe.
Many are pinning hopes of breaking the deadlock over issues such as migrant quotas at a summit on June 25th. Luxembourg's Foreign Minister warned that if no deal is made, there would be chaos.