Hong Kong wants 'two systems' promise honoured
Comments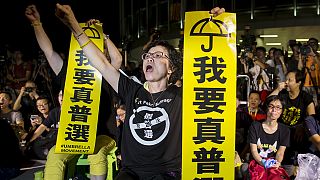 For 79 days last autumn, thousands of citizens blocked Honk Kong's main streets.
The Umbrella Movement beginning late 2014 opposed Beijing's plan for electoral reform, the adoption of which would intervene in how the city is governed.
As it stands, Honk Kong's government is led by the Chief Executive, chosen by the 1,200-member Election Committee, consisting of individuals and bodies defined in the Special Administrative Region's constitutional Basic Law.
The Chief Executive nominates principal officials for appointment by Beijing.
The reform proposes that the Committee name three candidates who would then be elected by universal suffrage, by Hong Kong's five million permanent residents.
The reform's opponents brand this undemocratic.
They don't want undue influence over who is a candidate.
Beijing agreed in 1984 that after Britain handed the former colony back to China in 1997, Hong Kong would keep its capitalist system and various freedoms for 50 years.
Today's Chief Executive Leung Chun-Ying, last October suggested the people's desires are not realistic:
"The Hong Kong Special Administrative Regional Government cannot make something that is not in the Basic Law possible. Politics is the art of the possible and we have to draw a line between possibilities and impossibilities."
Prevailing legal opinion in the People's Republic of China is that Hong Kong's Basic Law is a domestic offshoot of Beijing's authority. The concept of 'one country, two systems' was seen as a transitional devolution.
Modern Hong Kongers want it taken seriously, and sustained democratically through unhindered direct election of the head of their government.
They want the Basic Law to continue to underpin their prosperity and stability.
Beijing must also consider other regional autonomy demands, controlling the whole country under the all-powerful Communist Party.