Escaped white tiger shot after killing a man in Tblisi
Comments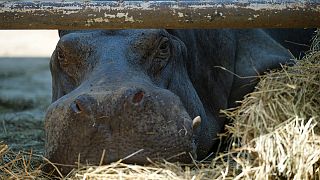 The death toll following the floods in the Georgian capital Tblisi has risen to 20 following the death of a man who was savaged by a white tiger that escaped from the city zoo.
After injuring another man the tiger was shot. The authorities say they do not know how many other dangerous animals from the zoo are at large, and are advising continued caution from residents.
"They were working in the depot and when the victim entered the tiger jumped from a room and bit him on the neck. At first, we could not enter the room, then we broke the metal bars and the tiger was scared away by the noise," said an eye-witness.
Initial estimates of the cost of the floods are around 40 million euros, but some are wondering if there are any more surprises around the corner.
"According to the information we had, there should'nt have been any more animals on the loose. Some animals were killed inside their cages, others were killed during the night," said Interior Minister Vakhtang Gomelauri.
Another tiger, a bear and a hyena are still unaccounted for out of the 300 that escaped or died. Six people are also still missing.
Experts are suggested a landslide following heavy rains turned the river Vere into a torrent.